We'll start off with a pro-tip: start shopping early this year! Today's global supply chain issues could mean some of your favorite product restocks might not make it if you wait until December to get to your list. Here are our favorite new products and brands of 2021 for the person in your life who loves to spend time in the kitchen!
Okay, we just couldn't choose our favorite product from this new colorful brand! With nods to vintage cookware, this female-founded brand makes high-quality products that think outside the box design-wise. We love the Precious Metals Set for a splurge-worthy gift for someone high on your list. The Hot Dish is a great choice for less than $100 that's sure to become their favorite piece to bake and roast in, definitley oven-to-table material.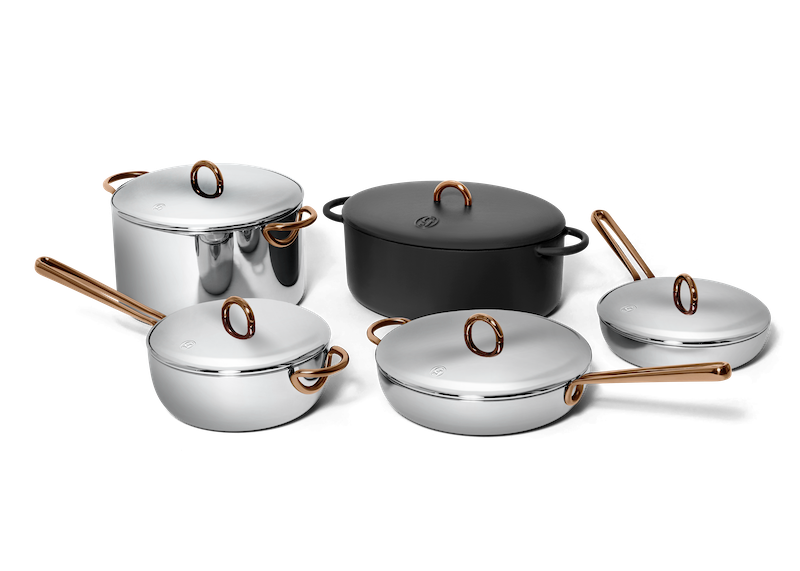 We look for a few things when we're thinking about "Best of" anything. For us, stainless steel is the greatest type of cookware, but there are many different grades and they are anything but equal. For top-quality, you want to look for "fully clad" and 5-ply of 18/10 stainless steel — this ensures excellent heat retention and long-lasting product. We like Kitchara, a new brand that fits the bill but without the hefty price tag, you'll see with traditional brands (ahem, All-Clad). This set is gorgeous and absolutely a gift they'll have forever.
We have this set of taco holders and adore them! They make it fun and easy to get the kids involved in topping their own tacos and really elevate our taco Tuesdays with a crowd. Definitely, a newer kitchen invention we didn't know we needed. Incredible stocking stuffer for under $20, comes as a set of 4!
It's one part of the kitchen that too often is overlooked! A perfectly balanced and ultra-sharp knife that you can use for dicing onions or carving a turkey, a chef's knife upgrade is always appreciated. We're obsessed with Misen's 8" Chef Knife, it works like a dream and comes beautifully packaged. We can't think of anything more giftable. While we're here, we'd be remiss not to mention that the Dutch Oven came in as a close second for most giftable by this new brand.
From the people who brought to you the best at-home espresso maker ever, comes the fool-proof Sous-Vide. It has an app that displays exactly how your food is cooking, so dinner comes out predictably perfect every time. Amazing gift for the home cook who has everything, this one won't take up much space.
Best Gift for a Host or Hostess: 360 Fondue Set 
Like bucket hats and espresso martinis, the kitchen items from the past are cool again. We are so into the idea of hosting a fondue party, we could scream. This 360 Fondue Set is a super fun gift for anyone who loves to throw a dinner party, we promise they don't have this…yet.
Happy shopping! We'll keep this list updated as new product launches (and deals!) will be happening over the next few weeks, stay tuned.