You don't always have to take a sledgehammer to your kitchen tops and cabinets if you want to remodel (or redecorate).
Sometimes all you need is a couple of new additions in the form of a small woodworking project and suddenly its like you're in a brand new kitchen!
Let's take a look at a handful of projects that vary in difficulty but once completed, will add a small but noticeable new look to your kitchen.
Paper Towel Holder
A paper towel holder is simple and to the point. A raised base keeps the towel roll away from a dirty counter surface and enables easy tearing of single pieces.
Bruce over at the Woodworkers Guild of America gives you all the steps to make a four piece holder. The two side pieces are there to keep the roll center, but it's up to you if you want to include them.
Signs
Custom signs point to an overall welcoming household. Wood signs are very common near ceilings or above the entrances to kitchens. The best part about it is that depending on the size of the sign and what goes on it, you have near complete creative control.
There are so many ways you can go about making a sign. Some involve hammer and chisel, while others are made simply by stencil.

Liz from Love Grows Wild shows you a simple way to make a sign from pre-cut wood. This is wood that you can sand down to get that nice, smooth feeling. Then, using a stencil, you can paint whatever lettering you like in a sort of time-worn fashion.
Knife Block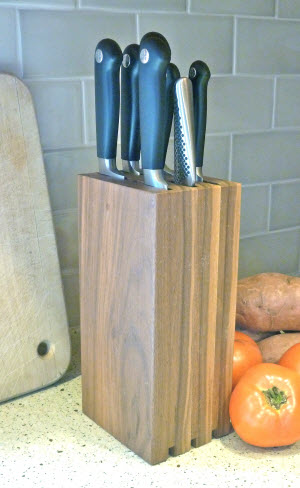 A knife block is going to be one of the more complicated projects on our list, depending on the style and method you want to go about it. There are blocks where you can put your knives in vertically or at an angle, with the latter being the most popular.
Seth from the Wood Workers Guild of America provides a diagram and how-to steps to make a simple, vertical facing knife block. This project will need careful planning in order to get the sheaths the ride diameter so as to not cause damage to the knives over time.
Wine Rack
Depending on how much wine you keep around the kitchen, a custom rack can be flashy as you want it to be. There are different ways you can build your rack but the focus should be appropriate support the more bottles you add on to it.
If your wine supply is small, Lowe's provides a step by step process to build a countertop wine rack. We normally attribute racks to being large and looking a bit like cabinets. This one is sure to be a relief to those whose kitchens are getting a little crowded.
Napkin Holder
If your family is the messy type, then you know that paper towels won't be enough to prevent let alone clean up some messes.
A napkin holder will centralize all the napkins that you buy or compile form takeout. This particular design from the WoodWorkers Journal has a wooden plank over the top to make sure you don't grab too many napkins to begin with.
Patio Stools
While DIY Projects w/Pete refers to these projects as Patio Stools, they can just as easily fit indoors if you have a high table or countertop that you or your guests eat from.
One tool that will really help you out in building these stools is a miter saw. A miter saw is a large power tool that's going to take up some space and require practice, but in the end will save you valuable time cutting the wood.
Coasters
The good thing about coasters is that you can make multiple ones out of a long piece of wood. They're pretty much a necessity if you're dealing with cold or icy beverages on the regular.
On top of making the coasters, the guys over at Fix This, Build That show you how to build the base. This base will come in handy depending on how many coasters you end up constructing.
Drying Rack
Drying racks are convenient if you don't have the space to lay out all your dishes and utensils on the counter. It's common to see racks made out of a variety of materials and objects, not just wood.
This particular design from Instructables utilizes those wooden hangars you probably never use along with a few spare planks. Its pretty easy to put together once you've got all the parts, and all you'll need is a couple screws/fasteners and a power drill.
Fabricating these Projects
Power tools can be expensive and time-consuming to get the hang of. Our friends at The Tool Box Geeks have great reviews and guides to the best power tools on the market. They've also compiled a list of beginner's woodworking projects that shouldn't require too much money and some of them would definitely compliment the look of your kitchen.