We've all heard of and raved about All-Clad's cookware, but how does their slow cooker fare? Read on to find out.
Slow cookers come in a handful of designs and constructions. Some of them are better at cooking in certain time ranges than others. All-Clad's SD700450 is a pretty popular slow cooker for a company that's known mostly for their cookware. 
Design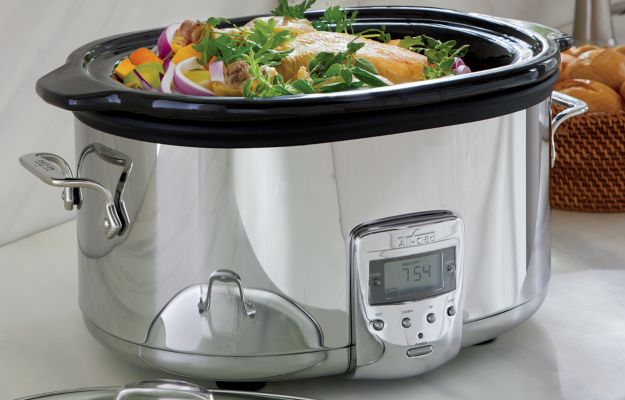 The SD700450 has an ovular design common among slow cookers of various brands. A glass lid sits on top and is clear so you can see the progress of your food. This lid does not have a locking feature, so you should make sure it's sitting securely in the cooker before you begin.
A 6.5 qt black ceramic mold fits inside the cooker and is the surface where the cooking is done. This insert protects the outer layer of stainless steel from any grease or foods that may accumulate while the cooker is active.
Both the lid and the insert are dishwasher safe, which is a huge plus for people who don't completely trust hand washing. In total, the SD700450 weighs just about 12 lbs but be aware that it will take up a sizable portion of your kitchen counter.
Abilities
The SD700450 can conduct an entire cooking cycle between 4-20 hours with a maximum of 26. There are two primary settings–a high mode that cooks between 2-8 hours and a low mode that cooks between 4-20 hours. A third mode is a warming feature which will keep contents warm for up to 6 hours at a time or until you decide to open the lid.
The interface at the bottom of the cooker couldn't be simpler to use. There are only six buttons in total to either turn on the cooker, select a setting, or set a time range.
Uses
The large capacity of the insert and expanded cook time ranges are what make the SD700450 so popular. At 6.5 quarts worth of volume, you're better equipped to serve parties of people.
What can you actually do with the SD700450? Personally, I can't get enough of pulled pork, so that's the main meal that I get out of the SD700450.
Other projects include soups, chilis, sauces, spaghetti (and meatballs), and various meals involving meats. You also have the option of adding on a 200 recipe book specifically for slow cookers, but that will add more to your total price.
Overall
The biggest complaint about the SD700450 appears to be the strength of the ceramic insert itself. Under the stress of high heat, some customers have reported issues of cracking, though they do not appear to be very common. The inserts are replaceable, but just keep in mind that it will cost you a portion of the original price of the SD700450.
Despite the cracking issues, we believe that the SD700450 is a great overall cooker. It'll be a bit of an investment compared to other slow cookers of similar size, but its cooking ranges are some of the best in class. For many of the SD700450's customers, the combination of the cooker's size, settings, and easy interface make it worth the overall cost.