When we started The Kitchen Witches, I knew immediately that we would be focusing on all things kitchen – minus the recipes. There are SO MANY excellent food blogs on the internet already, and I do probably 75% of my cooking from recipes I've found on my favorite sites (and on Pinterest, of course).
There are quite a few that I have followed for many, many years, and I really want to share these excellent sites with you. So, without further ado, here are a few of our very favorite food bloggers, plus an example recipe from each. Enjoy!
Long before she was a household name, Ree Drummond ran her little blog, The Pioneer Woman, and posted delicious recipes and funny stories from the ranch. I found her years ago by accident, and I've been cheering her on and making her yummy recipes ever since. Her blog still exists and she still updates frequently. If you're a fan of Ree but haven't ever checked out her blog, do yourself a favor and head over to thepioneerwoman.com. Her posts and recipes are so fun to read, and I've honestly never made a recipe of hers that I didn't love. A sizeable portion of my go-to recipes (and the ones that win me the most praise) come from The Pioneer Woman.
One of my favorite recipes:
It's hard to pick just one – after all, she revolutionized the way I make mashed potatoes and corned beef – but when I'm craving comfort food, I simply can't resist her chicken fried steak (with the mashed potatoes, of course).
If I'm ever just scrolling mindlessly through Pinterest (or searching for a specific type of recipe) and Damn Delicious pops up, I immediately check it out (and probably pin it!). Chungah's recipes are always easy, fresh, and delicious. She shows step-by-step instructions to help you make everything from scratch.
One of my favorite recipes:
I am a sucker for a good pasta salad – we eat pasta salad basically nonstop in the summer – and one of my very favorites happens to come from Damn Delicious. Her bacon and avocado macaroni salad is SUPER EASY and so damn delicious (see what I did there?). It's light and fresh and perfect for the sweltering summer months.
I'm not really well versed on the food blogging scene (I just know who I like), but I'm fairly certain that Smitten Kitchen is one of the biggest blogs out there. Smitten Kitchen is run by Deb and she has a ton of social media followers.  I see her recipes everywhere. Smitten Kitchen blogs are always fun to read and the recipes I've tried are delicious.
One of my favorite recipes:
If you read the full post about this pumpkin bread, you'll begin to see why this is probably the best one you can make, and why it's definitely my favorite.
Continuing in the trend of bloggers I always check out I present to you Gimme Some Oven. What I love about Ali's recipes is that they are always easy and homey. While there are a ton of different types of recipes, I think it's the comfort food ones that always have me coming back.
One of my favorite recipes: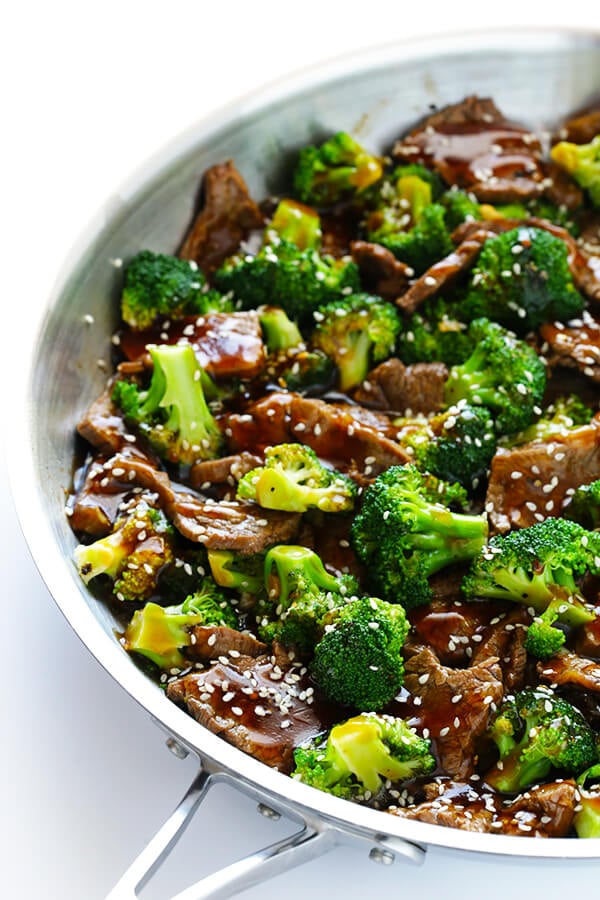 On a whim I made this beef and broccoli and I've been hooked ever since. It's way better than takeout, and it's a snap to make. I like to mix it up and serve it with noodles sometimes because I love noodles.
Iowa Girl Eats has been sharing great recipes online for quite a while. In 2013, after she was diagnosed with Celiac disease, Kristen began creating gluten-free recipes that worked for her diet and still taste delicious. Though I don't aim to eat gluten-free, I still love plenty of her recipes!
One of my favorite recipes:
I'd heard rumors of the lettuce wraps at P.F. Chang's but never actually had them. No matter, I will happily eat Iowa Girl Eats' copycat lettuce wraps for all eternity – I doubt I'm missing out because these things are addicting. (P.S. I like to use butter lettuce)
When going through the recipes I've saved from Pinch of Yum, I realized they are all bowl food – salads, noodle bowls, soups, etc. Of course, that's not all Lindsay has cooked up, but apparently those are my favorites! I'm also a big fan of her photography skills, so her food shots always catch my eye.
One of my favorite recipes:
This answer might be different if you asked me in summer, but I have to go with this delicious simple homemade tomato soup recipe. Serve with a gooey grilled cheese and you've got comfort food heaven.
We'll be sure to gather even more of our favorite recipes and websites for you in the future! Tell us: who are your favorite food bloggers?