Mid-Century Modern design is seeing a huge surge of popularity. Houses from this era or featuring design inspiration from this era seldom stay on the market for long, and the nostalgic style can appear in every room of the house.
Whether you own a mid-century modern home or just want to emulate that style, we have some decor ideas that can get you started on a budget. Here are some of our top picks for mid-century modern kitchen decor. 
Appliances
One of the most visible ways to add retro flair to your kitchen is through appliances — small and large. Smeg is one of the best-known brands for the vintage modern look, but Daewoo and others offer similar looks, often at a more affordable price.
This Smeg refrigerator is a great example of mid-century modern appliance design. It has the clean lines, minimalist exterior, and the coloring. It's also available in other common retro colors like mint green, pink, white, and black.
More retro fridges include:
Countertop appliances like microwaves and toasters come in fun, retro designs as well. Here are a few:
Lighting
Lighting is an easy and affordable way to change up the look in your kitchen without over-committing to a style. For mid-century modern and retro looks, you have a lot of different options. Pendants or chandeliers can both have a mid-century look, as can ceiling lights. Retro lighting might be about the color or the sleek shape, but it can also have an industrial look. Here are a few ideas to get you started.
Wall Hangings and Art
There are some really fun designs for your walls that have the mid-century look. A clock is an easy one, for there are plenty of inexpensive retro clocks that can add a dash of style to the kitchen. And don't forget about wall hangings and art pieces to tie everything together. We found a few to share:
Accessories and Dishes
There are a ton of different ways to incorporate the mid-century modern look into your kitchen using knick knacks and dishes. The retro look is easy to find in dishes and there are plenty of smaller design elements you can find online or (better yet) in antique stores. Here are a few items we found online for inspiration.
Linens
To add some finishing touches, look for linens, like dishtowels and curtains, to add splashes of color and pattern.
Furniture
Of course, furniture is the easiest way to make a big impact with mid-century design, but it can be a bit of an investment. True mid-century modern design pieces are hot commodities, making them difficult to find at flea markets or antique stores. There are plenty of pieces that are inspired by the original designers, however. Here are a few:
Brands
Here are a few of the key brands that offer retro styles, particularly in appliances and small appliances.
Mid-Century Modern Design Elements
What is mid-century modern anyway? It's a style that is inspired by the mid-1900s, and it's marked by several influences including the atomic age, Bauhaus, and Scandinavian design. It's also commonly called "retro" these days, though what constitutes "retro" varies from person to person. The term "mid-century modern" is used to describe architecture, interior design, and graphic design.
There are a few distinguishing characteristics of mid-century modern, including bright colors (white, black, red, and mint green or light blue are popular), minimalism, sleek lines, and certain designs (geometric and what is often called "atomic"). Materials include wood, vinyl, glass, and metal.
To incorporate the look, choose neutral colors (and very few of them) and look for ways to bring in pops of color. Look for clean lines and make use of wood and metal. Go for minimalism above all else so that your unique color combos and pieces will really pop.
Check out thrift stores, antique stores, and online shops like Etsy for unique decor and furniture. If you are interested in collecting real pieces, you'll want to learn about the key designers and how to identify authentic items versus fakes.
The retro appliances we listed at the beginning can be a great way to figure out which styles and colors you are drawn to. Also look online for plenty of inspiration on any home reno website and Pinterest.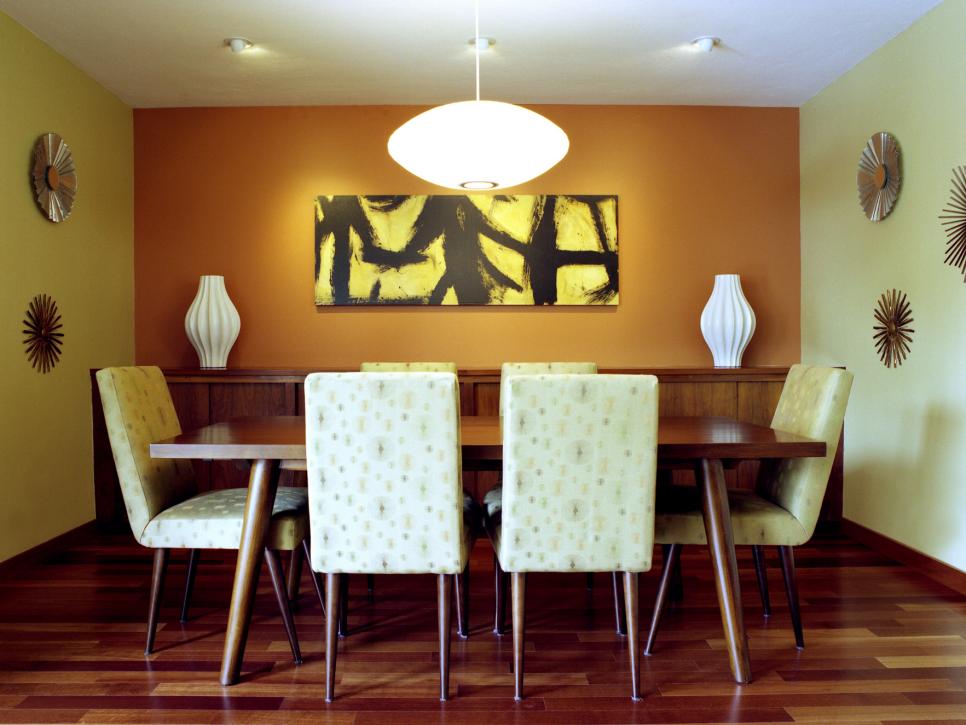 Featured image via The Jack + Mare