Red is one of the most popular colors for kitchens, and it's easy to see why. Pops of the hue in the kitchen make for lively and happy decor, and red has long been associated with food. 
We scoured the internet for ideas and items that will fuel your passion for red in the kitchen. Here are our top picks.
KitchenAid
We have to talk about KitchenAid first and foremost, because their reds are the stuff dreams are made of. Plenty of kitchens make use of red KitchenAid appliances as their primary decor, and it looks fabulous.
The red KitchenAid mixer (above, in Candy Apple) is one of the most famous of the red looks. Complement it or substitute with any of the other appliances and accessories available from KitchenAid. Be aware, though, that there are a few different options for red hues (such as Cinnamon, Candy Apple, and Empire Red). Here are some products:
Going with KitchenAid is a simple way to unite the reds in your kitchen and find matching items. For those who worry about mismatched reds, this is a great option. Plus, with several hues available, you can find the one that matches your personality best.
Red Cookware
Cookware is a fun way to add a dash of color to the kitchen. You can go for a whole set, like Rachael Ray's Cucina line or choose an often-used piece like a Dutch oven.
Here are a few other red cookware options:
Countertop Accessories
If you're not ready to commit to paint or red small appliances, or you  just want pops of color, adding countertop accessories in shades of red is easy. There are endless options that are both fun and functional. Here are a few of our faves.
Red Fabrics
Dishtowels, rugs, and curtains in reds or featuring red patterns add a lively feel to the kitchen. They are also easy and inexpensive to change out if you tire of the color or print.
Furniture
If you want to make a bigger commitment to red, adding some furniture is one way to tie it all together. Bar stools, for example, can add a splash of vibrant color to your island or bar. We found a few on Amazon that could be a nice addition.
For the Walls
Your walls are prime space for adding color — whether that means decor or paint is up to you. Red paint can be tricky (plan on several coats to cover white) but can be great on a statement wall or to envelope the entire space.
There are so many different hues of red, which gives you lots of options to match your other decor or to work with the type of design you're going for (such as farmhouse or boho).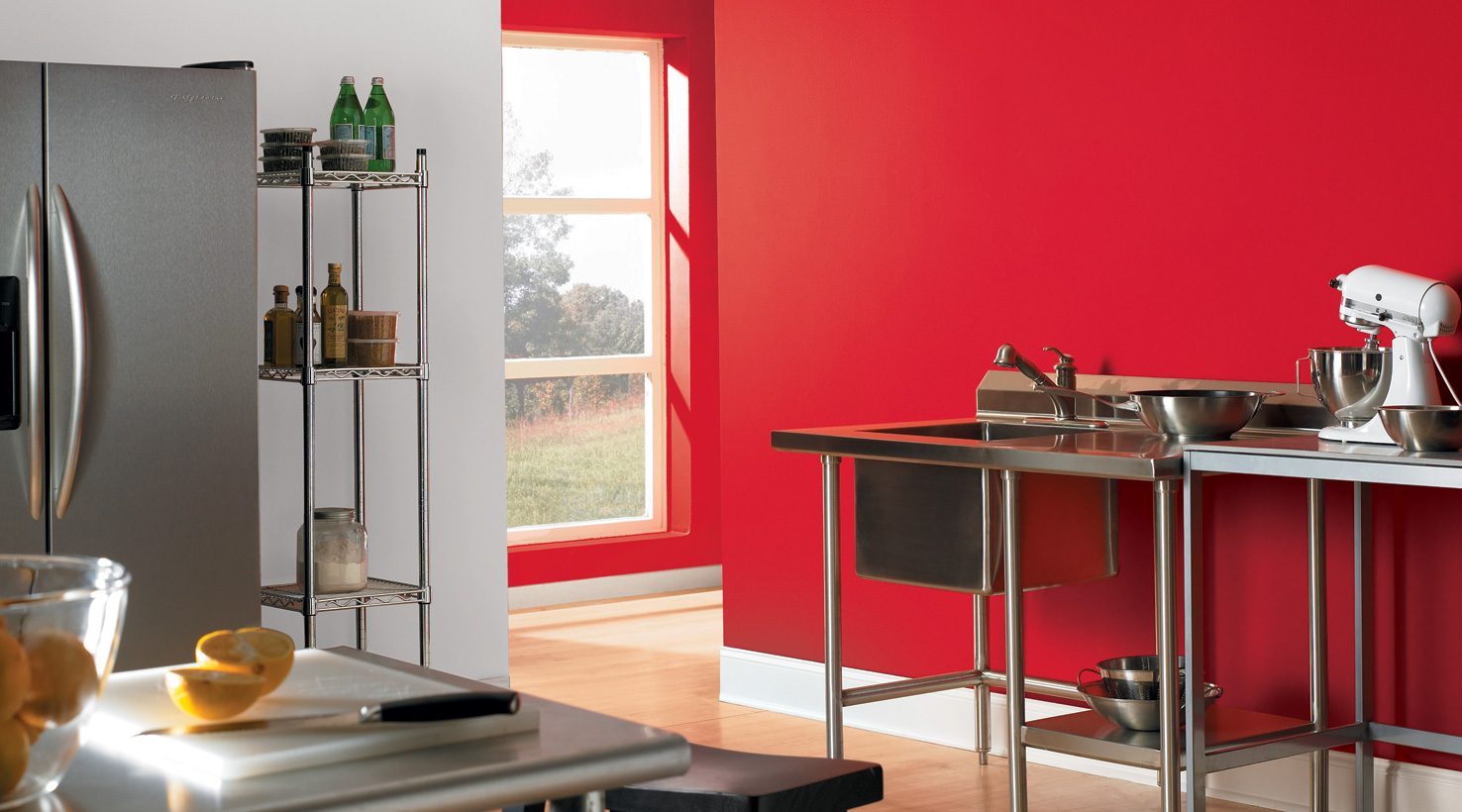 Don't forget about cabinets!
Wall decor, like clocks and art, can bring in red hues without the full paint job. Here are a few examples.
Appliances
One of the biggest commitments to the color red in your kitchen is red appliances. There are a few out there and they make a bold statement should you choose them for your cooking space. Refrigerators, stoves, and dishwashers are a few of the options out there. Check out Smeg's retro lineup, KitchenAid's stoves, and sets from Viking.